Broken Porcelain Halloween Makeup with Cassy from Exquisitely Chic
Hey Swatch and Reviewers! I'm Cassy – I'm a beauty blogger from Exquisitely Chic. On my blog I mostly chat beauty – doing product reviews and doling out tips and advice. And on my blog this month every Friday I offer up an awesome Halloween look you can do with very little product and tools.
Today I want to share with you one of my favourite looks. It's so customizable and requires such little product!
Here's what I used:
White Cream Makeup – try to find one that's a little better priced. The one I used did end up very splotchy.
Your everyday makeup kit.
Black Liquid Eyeliner – I used Essence brand.
Black Powder Eyeshadow – I used Mary Kay
Light Brown Powder Eyeshadow – I used Mary Kay
White Eyeliner Pencil – I used Wet n' Wild
White Jumbo Eye Pencil – I used NYX
Keep in mind that you can customize this look to the way you want. Reverse the effects. Use different colours. Play around with what you have on you. 🙂
To start off I did Becca's makeup the way I normally would – but only on the right side of her face – just above the brow to just below the cheeks. To amp things up a little I added some pretty deep bronzer and blush, along with a bold brow.
Then, I took a white eyeliner pencil and drew a jagged line all around the area of her face I did the makeup on. Followed up by the jumbo eye pencil right above that jagged line so I wouldn't risk crossing the line with the cream makeup.
After the line was established I covered her face in the white cream makeup. Which was no easy task thanks to cheap white cream makeup. The photos were edited to smooth out the white makeup – but it was blotchy as all hell. I do know that you can buy some very nice white makeups out there though. If you already have darker skin, you can also opt for a very light foundation topped with some baby powder.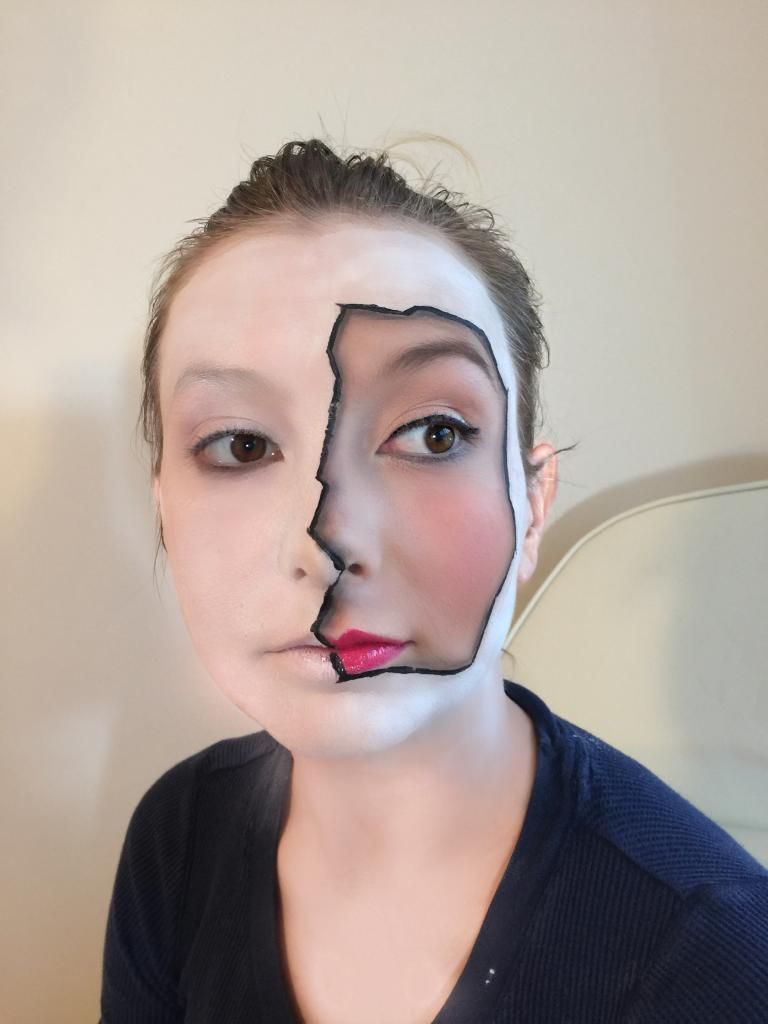 Once I had the base the way I (kind of) wanted it – I went ahead and drew over the jagged lines with my black liquid eyeliner. Very carefully. I did two coats to make sure it was nice and dark.
Once it dried I shaded just below with black eyeshadow then blended with the light brown eyeshadow to create depth.
Change it Up:
To change up this look you could do all your makeup the way you normally would except around the area I filled in here. Fill that area in as if your skin was torn off. Fill it in with glitter. Fill it in with glow in the dark face paint.
Do just a circle of white around your face to avoid having to bring it down your neck.
Darken up the eyes and add a black lip to make the look extra creepy!
Visit my blog to see all the different makeup looks I tried this year!
Follow me on Social Media



Cassandra Jones
Creator and Main Thought-Publisher Exquisitely Chic Blog